Explosion Proof Telephone, Zone 1 Mine Coal Oil&Gas Used, Certified IECEX Hot Sell JR-EX-01(II 2G Ex e ib mb IIC T4 Gb)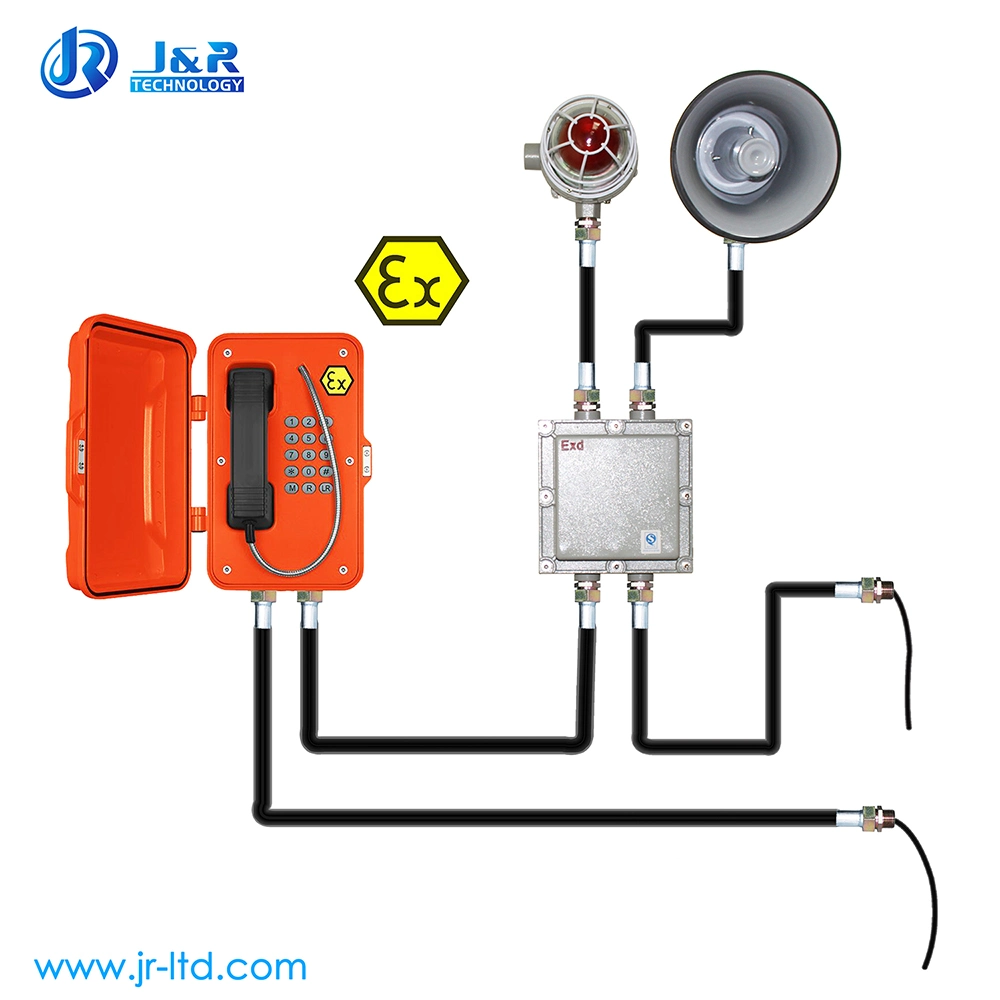 Explosion Protection
II 2G Ex e ib [ib] mb IIC T4 Gb
II 2D Ex ib [ib] tb IIIC T135 °Db
-40 °C ≤ Ta ≤ +60 °C/+40°C
Zone 1, 2, 22
Protection Type
IP66 - IP67
Handset
With Noise canceling microphone,for effective communication from noisy areas
(Armored SS cord stands up to rough treatment,optional for black curly cord )
Hookswitch
Electronic / magnetic with no visible moving parts
Keypad

Weather resistant full Keypad, No.of keys(TOTAL15KEYS):0-9,*,#,Redial,Mute,Last Number Redial

Color
Available in four colors: Orange,Yellow,Red and Blue
Ringing Tone
Built-in External Ringer that provides penetrating calling signal (85 dbA at 1meter)
Weight
Up to 8 kg depending on option
M.T.B.F.
Calculated to have an M.T.B.F. in excess of 50,000 hours using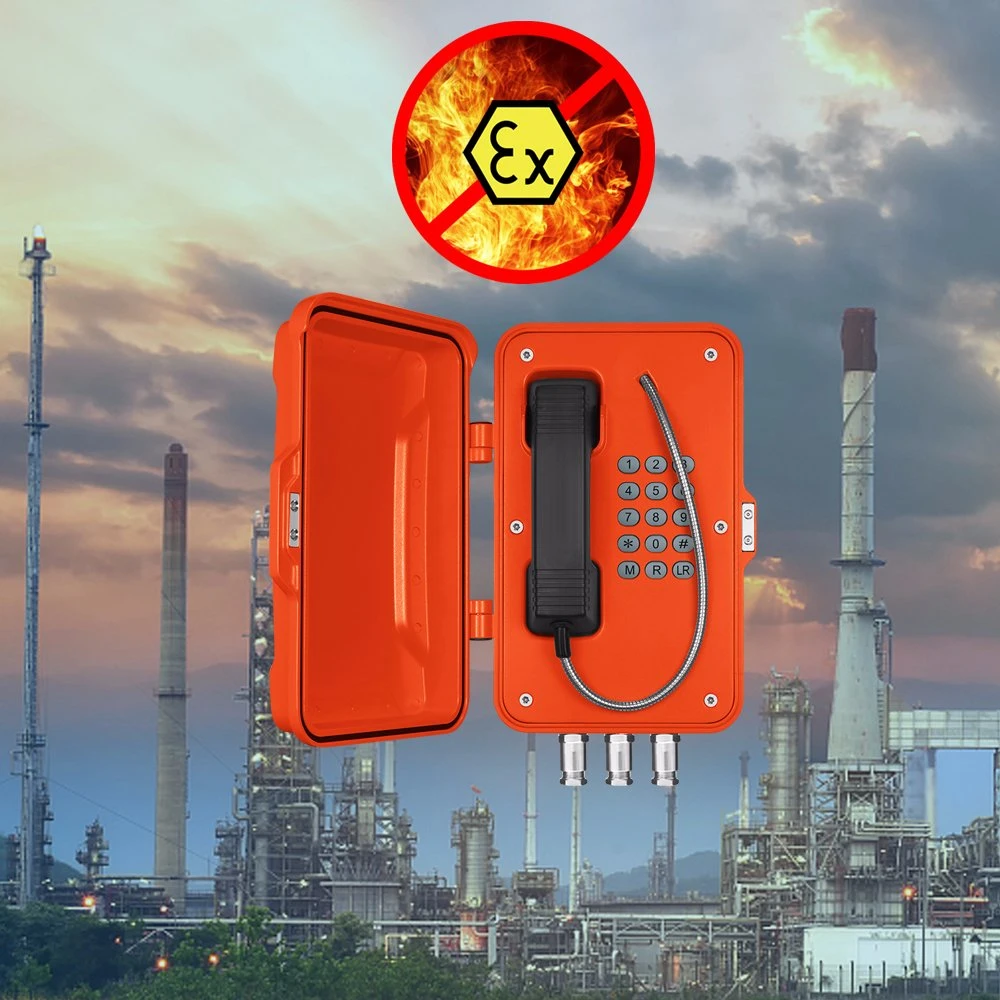 Metal Bodied Weather and Vandal Resistant VoIP Explosion Proof Telephone, As a explosion proof telephone, it is already certified with IECEX, fully contained within a corrosion resistant cast aluminium weatherproof case
with a door providing complete protection against dust and moisture ingress, resulting in a highly reliable product with a long MTBF. Ideal for Mine, Coal, Marine, Mining, Tunnels, Steel Plant,
Chemical plant,Power plant and related industrial application, etc.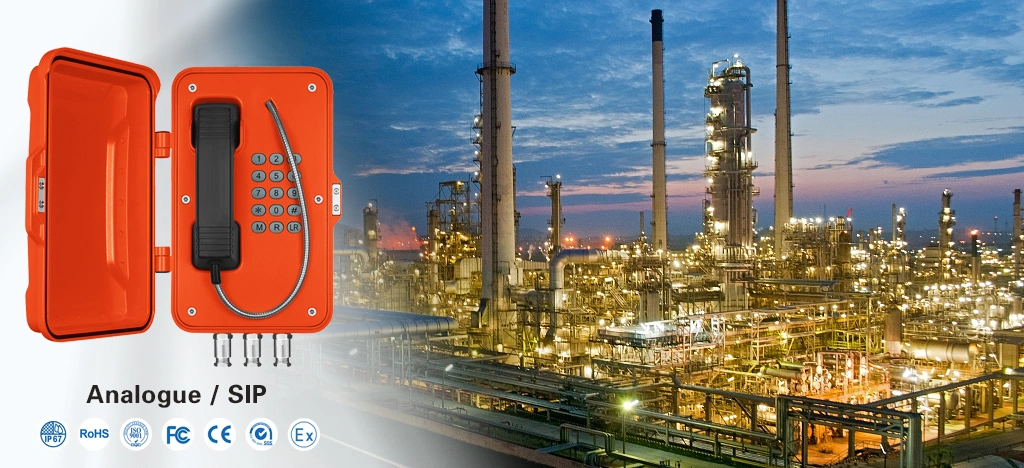 Certification Of IECEX Explosion Proof Telephone: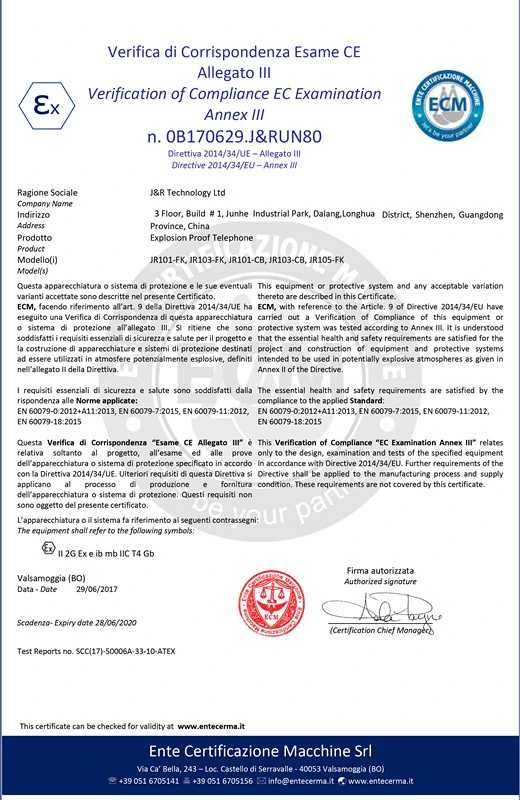 EXPLOSION PROOF /VoIP/SIP phone, Also support Analogue version
Robust construction, Vandal resistant
All weather protection IP66-67, IECEX certified.
Tamper resistant fixings
Simple installation
Fast-fit terminal connection
Programmed via web interface
Non-volatile memory
Magnetic reed hook switch to reduce parts subject to wear
Voice over Internet Protocol (also called VoIP, IP Telephony,
Internet Telephony, Broadband Telephony, Broadband Phone, and Voice over Broadband) is the routing of voice conversations over the Internet or through another IP-based network.
DC 5V powered or PoE(Power Over Ethernet)
No Additional Interface Required
Web Page Configuration
Real-time Alarm Reporting
SIP Compatible
RJ45 LAN or WAN Direct Connection
Automatic Call Divert (rollover), via Memory List
Auto Answer
Multicast Capable
Connection: RJ45 Ethernet socket through IP67 plug connector.
Quality of Service (QoS): ensuring optimal delivery of voice
Type of Service (ToS): high throughput and reliability (RFC3168)
ISDN gateway compliance: connect any SIP compliant VoIP/ISDN gateway to call to-and receive-calls from ISDN
SIP (Session Initiation Protocol) RFC3261
Inbuilt redundancy: able to make diversion calls to 2nd PBX
TR069 (Technical Report 069): for advanced status monitoring and control
SNMP supported
Configuration: web interface or server based configuration file. Static IP address provisioning or DHCP.
Mass configuration available.
Compatible with standard SIP protocol VOIP phone systems. (Asterisk,Cisco,Mitel,Elastix,Freeswitch,MiniSipServer,Yeastar MyPBX etc.)
Explosion Proof Telephone TECHNICAL SPECIFICATIONS
Temperature
Operating: -40°C to +65°C
Storing: -40°C to +75°C
Ringing Tone
Shrill warble tone 90 dBA @ 1 metre typical
M.T.B.F.
Calculated to have an M.T.B.F. in excess of 50,000 hours using
Dialing
MF (tone)
Lightning / Transients
Protection to ITU-T k.21 enhanced levels
CE, FCC,ROSH compliant
More certifications about Explosion Proof Telephones: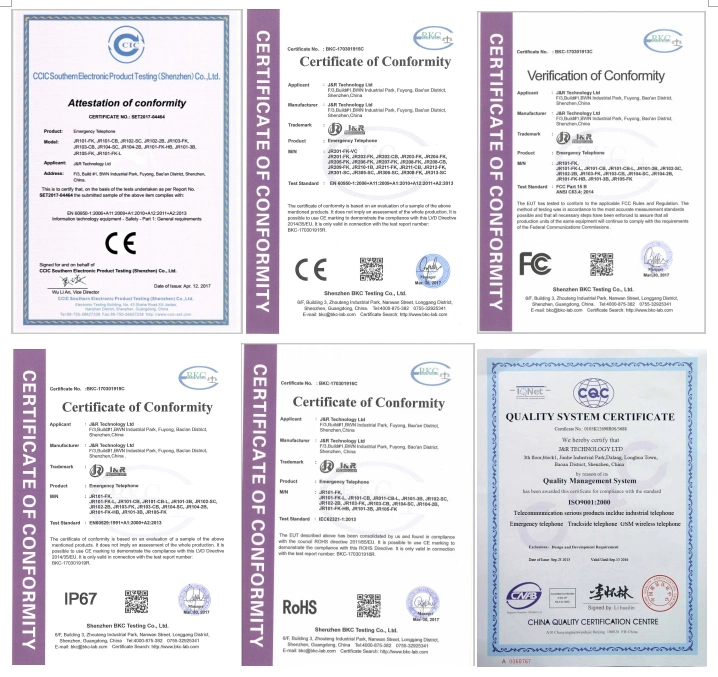 Package Information about Explosion Proof Telephones:
J&R is China based design and manufacturer of rugged communications equipment. Our telephones and systems work, and last, in environments where regular products wouldn't.
(All of our phone model avaliable for Analogue version,IP/SIP versio,GSM/3G version)
After well study your information,we sincerely hope to enter into partnership with your esteemed compnay.and we hope to serve you and cooperate with you for all of our product range in your market.
We could offer you all of our product range with ODM&OEM solution to meet your demands and requirement well.
and we will support you with the best product solution and costeffective solution to support you with the project requirement and marketing proposal.

We appreciate your business and we look forward to assisting you. Thanks again for your support and understanidng.