ATEX Analog Telephone with EX Horn & Beacon,SIP Explosion-proof Telephone for Underground Mining
Model No: JREX103
The Explosion Proof Telephone is designed for voice communication in the hostile environment where reliability,efficiency and safety are of prime importance. The telephone can handle the large temperature differences found outdoors, high humidity, exposure to sea water and dust,Corrosive atmosphere,Explosive gases & particles,as well as mechanical wear and tear, making it perfect for use as an emergency telephone.

This product has the following explosion protection:
II 2G Ex e ib [ib] mb IIC T4 Gb
III 2D Ex ib [ib] tb IIIC T135 °
-40 °C ≤ Ta ≤ +60 °C/+40°C
Zone 1, 2, 22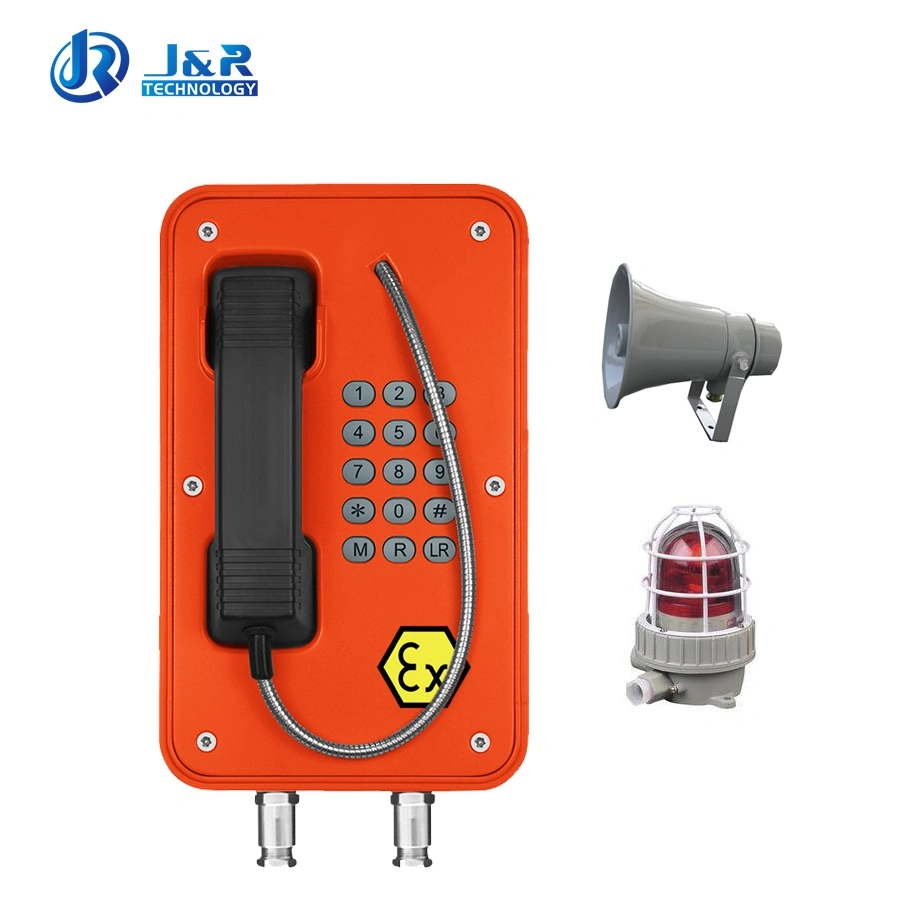 Application of Heavy-duty ATEX/IECEX Explosion proof Telephone for Hazardous Environment
Ideal for Marine, Mining, Oil&Gas,Tunnels, Steel Plant,Drilling platform,Chemical plant,Power plant and related industrial application, etc.


Key Features for Heavy-duty ATEX/IECEX Explosion proof Telephone for Hazardous Environment
Corrosion resistant aluminum alloy die casting housing
Available in four colors, with NPT conduit entries and Type 3 / IP67 environmental ratings
Certificated for use in Hazardous areas of Gas Group IIB/IIA
Zone classification: Zone 1& Zone 2
Ex 'd' protected
Intrinsically safe Ex"ib" certified
Temperature classification:T6
SIP or H323 protocols(Compatible with all PBX'S)
Power supply: Power over Ethernet
Fully configurable through any internet browser or the on-board display
Handset with Noise canceling microphone,for effective communication from noisy areas(Armored SS cord stands up to rough treatment,optional for black curly cord )
Completely programmable weatherproof hotline designed to be used with gloves
Hermetically sealed non-contact hook sensing switch improves system reliability
Built-in External Ringer that provides penetrating calling signal(85dbA@ 1meter)
Mounting :Wall/column/structural
Captive cover screws prevent loss during installation


ATEX Certification for Explosion-proof Telephone: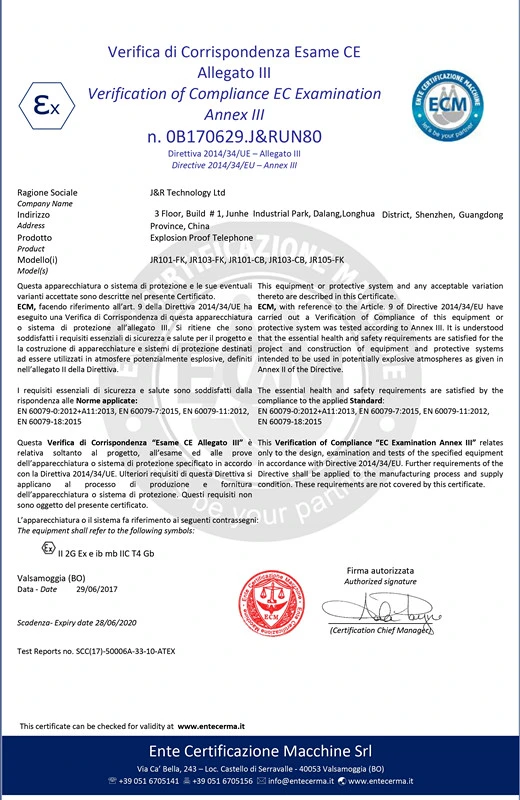 Other certification for explosion-proof telephone: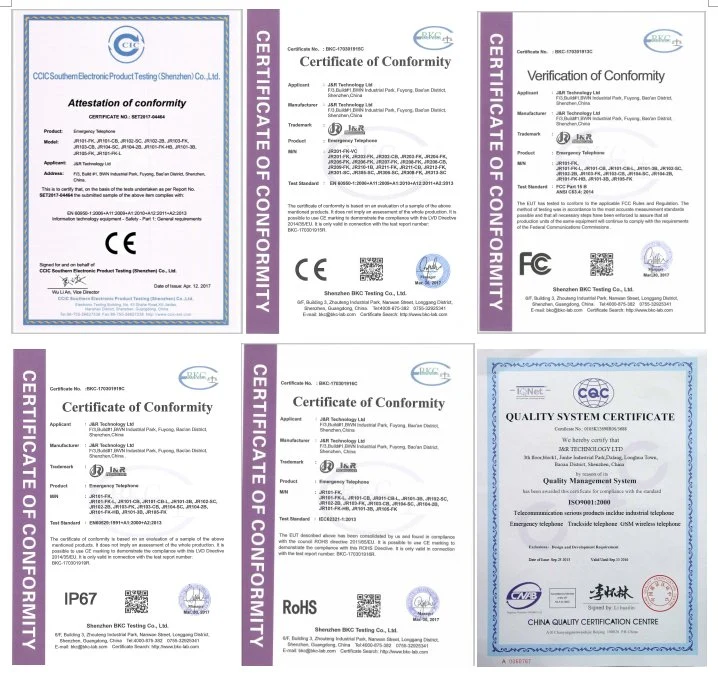 Package & Shippment for Heavy-duty ATEX/IECEX Explosion proof Telephone for Hazardous Environment
Dimension : Approx. 204*334*126mm(H*W*D)
Weight: 8Kg.(Approx)
Packaging materials: pearl cotton, carton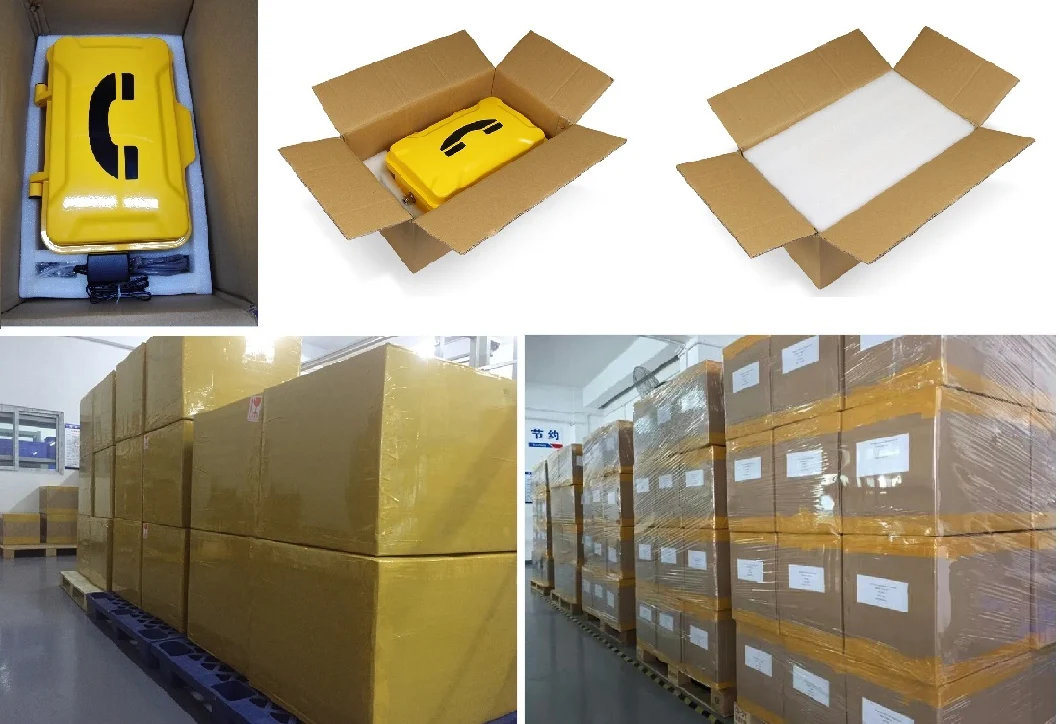 Contact Information:
J&R is China based design and manufacturer of rugged communications equipment. Our telephones and systems work, and last, in environments where regular products wouldn't.
(All of our phone model avaliable for Analogue version,IP/SIP versio,GSM/3G version)
After well study your information,we sincerely hope to enter into partnership with your esteemed compnay.and we hope to serve you and cooperate with you for all of our product range in your market.
We could offer you all of our product range with ODM&OEM solution to meet your demands and requirement well.
and we will support you with the best product solution and costeffective solution to support you with the project requirement and marketing proposal.

Choose J&R technology, Choose reliable talks!!