High Lumen SMD 3030 Waterproof 185W IP68 LED Flood Light
High lumen output 24050lm IK09 waterproof IP68 LED Flood Light 185W for 7 years
Features + benefits
The LCD-CES-J range is designed specifically for harsh & hazardous environments which require high performance,
high reliability, White-Light, safety and durable illumination. Using LCD-CESP's professional LED technology, LCD-CES-J is
ATEX and IEC Ex approved for all Zone 1 applications and rated for T5 and T6 environments.
LCD-CES-J is ideal for applications where space is restricted with its compact, low profile design, which
also allows easy access to the back of the unit with rear cable entries so cabling can be hidden and protected from
damage. Housed in marine grade aluminium, LCD-CES-J is IP67 and IP68 rated and can survive the most
extreme environments.
LCD-CES-J is available in a range of different beam patterns, such as 25º 60º 90º 120º, with revolutionary
interchangeable PC lens inserts which can be easily altered on site delivering the ultimate flexibility to specifiers,
distributors and end users. Delivering high performance illumination of up to 24,050 lumens,
CERTIFICATIONS
LCD-CES-J series is a hazardous location LED lighting fixture Class I Division 2,
Groups A,B,C and D; Group II, Zone 1 & Zone 2; Zone 21 & 22.
HOUSING BODY
Aluminum alloy ADC12
LENS
4mm thick tempered glass & PC reflector 25º 60º 90º 120º
+95% light transmission.
Shock and vibrations resistant.
PERFORMANCE
2600 to 24,050+ lumens
Up to 135 lm/w.
From 20W up to 185W.
L70 (hrs) rated > 65,000.
IP67 & IP68 RATED
Dust tight and protected against the effects of immersion in water to
depth between 15 cm and 1 meter.
0-10V dimming standard.
Ideal for heavy industry, mining, refineries, chemical industry, coastal
marine facilities and corrosive applications.
MOUNTING
Surface/wall mount standard (adjustable mount bracket included).
Pendant kit optional.
OPERATING TEMPERATURE
From -40°F up to 122°F (-40°C to 50°C).
DIMMING
0-10V dimming standard , DALI, Triac
Technical Specifications
Certification
ATEX Rating: ATEX and IEC Ex rated for Gas and Dust
Hazardous Area rating: Zone 1 - Gas and Dust

Certificates:
UL, including C1D2
Gas: II 2 GD Ex e mb op is IIC T* Gb
Ta= Up to -30°C to +50°C (-20°C to +46°C for emergency variants)
Dust:II 2D Ex tb op is IIIC T* Db
Ta= Up to -30°C to +50°C (-20°C to +46°C for emergency variants)
IP67 & IP68
Electrical
Input:
100-277VAC, 50/60Hz only
Low voltage: 18-48V AC and 18-32V DC
Extra low voltage: 12V AC/DC
Power:
20W to 185W standard
Termination
Incoming terminal block suitable for
looping 4 core 4mm² cable
Power Factor:
>0.95
Cable Entries:
4xM20 as standard (other entries
available upon request), dispatched
complete with three ATEX/IEC Ex
approved blanking plug
Optical / Photometric Specs
Beam Patterns-symmetric : 25°x 25° or 60°x 60° or 90°x 90° or 120°x 120°
(10 x 10 option can be upgraded to LCD-CESP Technology)
Lumen output on mains: 2,600 lm - 24,050 lm
LED type: Bridgelux or LUMILEDs SMD3030 LEDs chip
Number of LEDs: 36 / 108 / 192
CRI 75+
Colour Temperature: 3,000K 4,000K 6,000K
25º
60º
90º
120º
Mechanical/Environmental
Burning position: Universal
IP rating: IP67 & IP68
Temperature range: -30°C to +50°C (-20°C to +46°C for emergency variants)
Weight: Please contact LCD-CESP for copy
Enclosure: Marine grade aluminium epoxy powder coated, toughened glass, all external
fasteners and brackets are marine grade stainless steel
Unit Colour: grey , yellow, orange
Installation instructions: Please contact LCD-CESP for copy
Dimensions: Please contact LCD-CESP for copy
Mounting: Comes complete with stainless steel brackets(as shown on below )
Other options available
Characteristics:
1,Copper-free Aluminum housing with high voltage electrostatic spraying surface.
2,Stainless steel exposed fastener with high anticorrection performance.
3,Toughened glass cover stands 4J impact and resistant to temperature changes ,with high lighting transmittance .
4,Power driver and led source are in different cavity which assure heat of led source will not transmit to the power driver cavity.
5,The lid is slot structure with foam seal, all juncture stickup and firm. Assure high degree of protection.
6,Professional optical design and quadratic light distribution result in high uniformity of illumination,lighting reflectivity and utilization.
7,Special constant current power driver can assure wide voltage input and output constant current. With short-circuit and overvoltage protection.
8,PF≥0.98, anti-interference grid design and rapid starting.
9,Cable wiring design.
10,Adopted imported LED chips, reasonable arrangement ,soft and uniform lighting,longer working time and eco-friendly.
11,Patent fins heat-dissipation structure increased the cooling surface area. Air convection slot design can make use of air flow to assure high quality heatdissipation performance and longer working time .
Applications:
Applied to hazardous areas ,such as oil fields, oil refinery, chemical industry and military base and offshore oil platform ,wharf etc. Gas explosion environment : Zone 2 and Zone 22.Class IIA,IIB,IIC gas explosion environment. Temperature class: T1-T6.
Parameters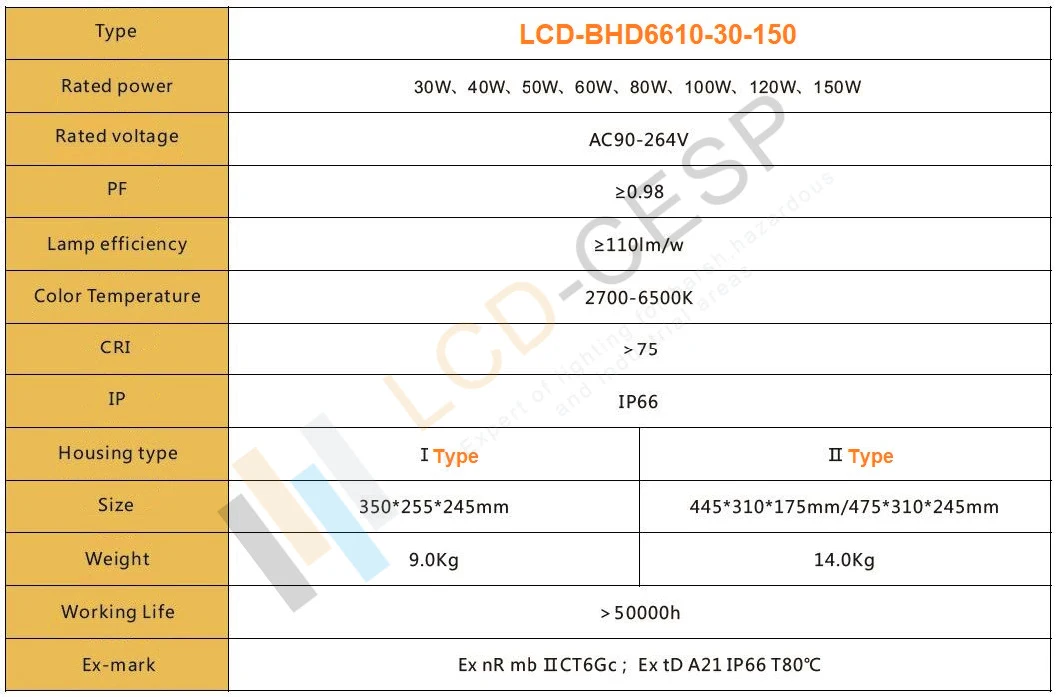 Lighting Distribution Curve: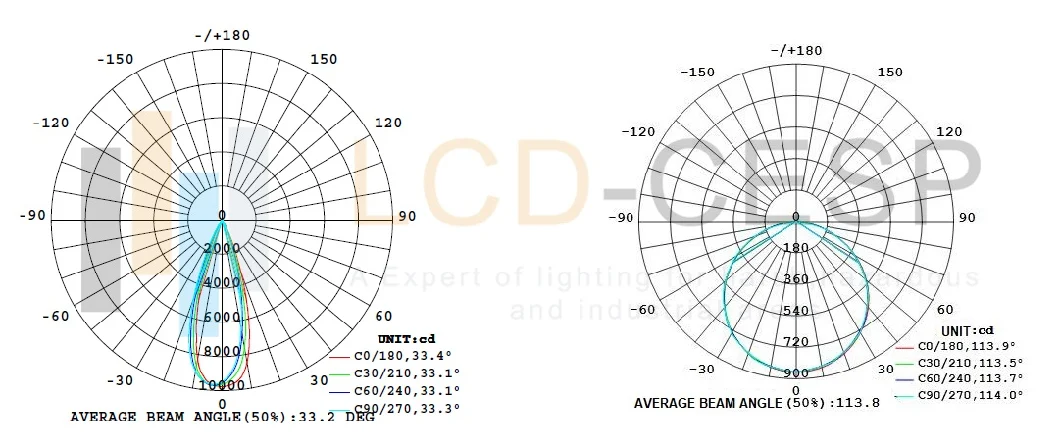 Dimension: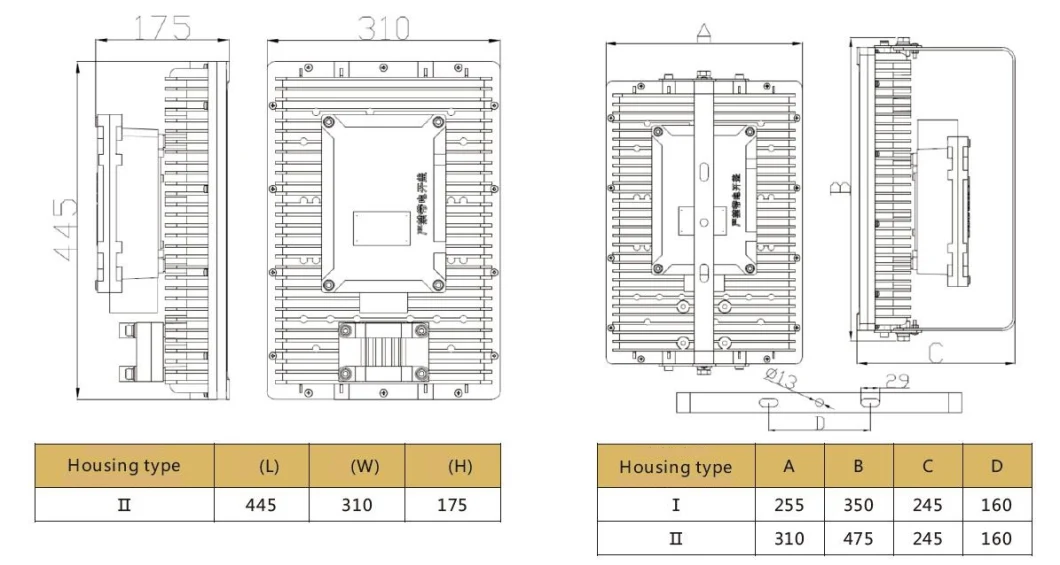 Mounting type: